Owning a home is a great way to plant roots and build wealth. If you have sizable equity in your home, you might consider using that equity for re-modeling your home or paying off medical or credit card debt. One way to do that is with a home equity line of credit, or HELOC.
With a HELOC, you're borrowing against your home equity. In other words, you're using your home equity as collateral on a loan. Of course, not everyone can qualify for a HELOC. If you are considering a HELOC, you should understand some of the requirements you must meet in order to qualify for one.
HELOC Requirement: A Good Credit Score
Having a good credit score is typically a requirement of getting a HELOC. Just like other loans, your credit score is one of the ways a lender evaluates your ability to pay back a loan. While different lenders have different eligibility requirements, people who have a higher score have a greater chance of getting their loan approved.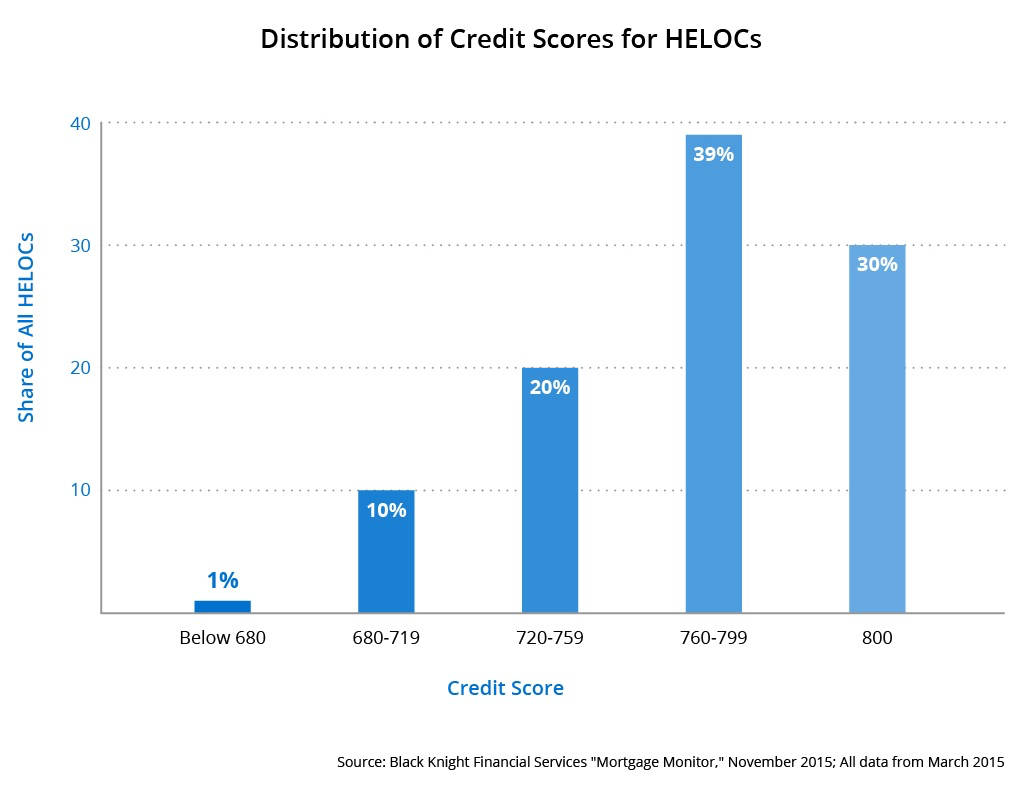 In the graph above, which uses data from 2015, we can see that the most common credit score range for HELOCs is 760-799. This range is above average when considering all Americans' credit scores.
Furthermore, it's clear that the vast majority of HELOCs go to borrowers with a credit score of 720 or higher. That means it may be difficult for you to get a HELOC if your score is lower than 720.
If your score is between 640-720, you can still get approved for a HELOC, but it will be more difficult. You will need to show a strong likelihood of repayment due to other criteria, including your income and your debt to income ratio.
HELOC Requirement: A Low Debt to Income Ratio
Having a low debt to income ratio may be even more important than having a good credit score. A debt to income ratio measures your ability to manage your monthly debt payments. It compares your debt repayment amount to your overall income. To calculate your DTI, divide your recurring monthly debt by your gross monthly income. The score is expressed as a percentage. For example, if you have total monthly debt payments of $2,000 (including auto loan and credit card) and your income is $5,000 per month, then your DTI would be 40%.
"Obviously, the lower the ratio better, but anyone with a DTI higher than 45 usually won't qualify for a loan," says Casey Fleming, a mortgage advisor we spoke to in Silicon Valley who is the author of The Loan Guide: How to Get the Best Possible Mortgage. "For many traditional lenders like banks, they may require an even lower ratio."
Before applying for a loan, take a look at any monthly debt payments you have, including mortgage, credit card bills, car payments, student loans or any other type of personal loans. If you find out that your debt to income ratio is above 45 percent, then you may want to consider waiting until it is lower or find other financing options.
HELOC Requirement: A Fair Amount of Equity On Your Home
Borrowing against the value of your home requires that you have home equity. This is often measured by your loan to value ratio. This is essentially the difference between the balance of your mortgage (and any other related loans) against the the market value of your home. If your home is worth $400,000 and your total loans on the property equal $200,000, then your loan to value ratio would be 50%.
Most lenders want your loan to value ratio to be less than 80% in order to give you a HELOC. You can use this calculator for a more accurate calculation of your loan to value ratio.
An Alternative to a HELOC: Home Ownership Investments
While not everyone can meet the requirements to qualify for a HELOC, there are other options available to consumers. One option is a home ownership investment from a company like Unison. With the Unison HomeOwner program, you can unlock the equity in your home without getting a loan and with no monthly payments.
In a home ownership investment, a company like Unison invests alongside you in your home, sharing a portion of the future change in value of the home. If the value increases, Unison would share in those gains. If the value decreases, Unison would share in the loss.
Shopping Around For a HELOC Loan
When shopping around for a home equity loan, Fleming advises understanding important terms and making a plan for your loan.
"It's a good idea to learn about terms like the introductory rate, the permanent rate, loan terms and draw periods so you can comparison shop," he says. "When you start getting loan offers, make sure to check to see how each of the offers compare to one another."
And remember that a HELOC can be a good option, but it is not the best choice for everyone. "For homeowners who want to expand their home or need some cash flow help and have a sound plan to pay off the HELOC loan, it's a great idea," says Fleming. "A HELOC loan costs less to originate than conventional loans and is a great option as a short-term loan."
Borrowing against the value of your home can give you more favorable loan terms compared to a personal loan, but it also comes with potentially greater risks. Make sure you understand these risks before you sign on the dotted line. If you understand the fine print (including any closing costs and applicable fees) you'll be better equipped to make an educated decision.