Why does Unison require a home appraisal and is it accurate?
A home appraisal is a report from a qualified professional that estimates the value of a home. When you buy a home, you will usually hire an appraiser to visit the home, review its condition and characteristics, find comparable properties that have recently sold in the area, and provide both you and the seller of the home with a fair estimate of its value.
Appraisals are also valuable to lenders so they can verify that a property's value is equal to what the borrower is paying for it. This reduces risk for both the borrower and the lender.
At Unison, we require home appraisals to ensure an accurate home valuation when we are entering a HomeOwner deal. Unison uses independent professional services to ensure that our customers on both sides of the transaction are entering into the agreement based on an unbiased valuation. To do that we use Appraisal Management Companies (AMCs).
AMCs are far-and-away the preferred means for obtaining appraisals in real estate transactions. They provide a "firewall" between lenders and appraisers, as required by federal guidelines. If you would like additional information about AMCs and their position in the real estate industry, please see this page on the FDIC website.
Costs of Appraisals
As with the title report and home inspection, Unison pays for the cost of the home appraisal. These costs are encompassed in the 3.9% transaction fee that we charge each customer. If you request a second opinion then a new appraiser will be sent to your home. Unison will cover the cost of the second appraisal if you choose to use a Unison program. However, if you choose not to do business with Unison, we will ask that you pay for half of the cost of the second appraisal.
What is the Owner Occupancy Requirement?
Unison's HomeOwner program is for homeowners who live in the home.
In order for your home to qualify as an owner-occupied property, you must live in the home for at least 180 days out of every 365-day period and must never be away from your home for 60 consecutive days.
Unison does not invest in rental properties because they frequently suffer more wear and tear than owner-occupied homes, and therefore carry additional risk.
What kind of properties are eligible?
Our programs are currently designed to invest in your owner-occupied, primary residence. This can include single-family homes, townhouses, and condominiums. In some cases, we invest in second homes and are happy to have you give us a call to see if your home or property qualifies.
Prior to partnering with us, you can input your address — with no obligation — to see if your property qualifies. Simply click the button below to get pre-qualified.
How does Unison affect my taxes?
Unison is not a tax advisor and does not provide tax advice. We always recommend that you consult with your tax advisor for personalized advice, and we are certainly happy to speak with him or her directly.
We believe that under current tax law, a homeowner entering into a Unison HomeOwner Agreement should not have to pay taxes on the cash we provide you. Please contact us if you have further questions.
If I choose Unison HomeOwner, can I still refinance in the future?
You can refinance, but there are restrictions. As part of the agreement, we will set something called the Maximum Authorized Debt Limit. This is a limit to the total amount of debt secured by your house.
This limit is initially set based on your home value and financial situation at the time of purchase, and does not adjust upwards as your home appreciates in value.
If you need another loan secured by your home while you're part of our agreement, you must stay under that limit. Also, you'll need to let us know if you're seeking any loans secured by your home before you get the loan to make sure we're all on the same page. While Unison will generally subordinate to a new mortgage loan you get in an amount up to the Maximum Authorized Debt Limit, customers seeking a refinance should be prepared to work with a Unison Partner Lender if necessary.
What does Unison need to know in order to determine whether they will invest in my home?
We evaluate credit, income and your property, all of which can be done without any financial obligation to you or impact to your credit.
Information about you. We look at your credit history, income, and other factors prior to partnering with you.
Information about the home. We also need to evaluate the home prior to partnering with you. Usually, the home needs to be your primary residence and must meet several other criteria for us to invest.
If I purchased a home and added Unison HomeOwner, what would the numbers look like?
Let's look at an example that illustrates what your numbers might look like if you bought a home 30 years ago:
You purchased a home in 1987
You paid $1,000,000
You put in a 20% down payment
Your mortgage rate was 4.0%
After 13 years (year 2000), your home value was appraised at $1.6 million. Unison invested 10% of the value of your home, in exchange for 40% of your home's future appreciation
Unison's investment payment to you was $160,000 minus any fees.
Your home saw an average amount of appreciation (based on data from the Federal Reserve)
This graph shows how much equity you would gain and how much you would share with Unison over this 30-year time period. As you can see, both your equity and Unison's share increase when the home increases in value.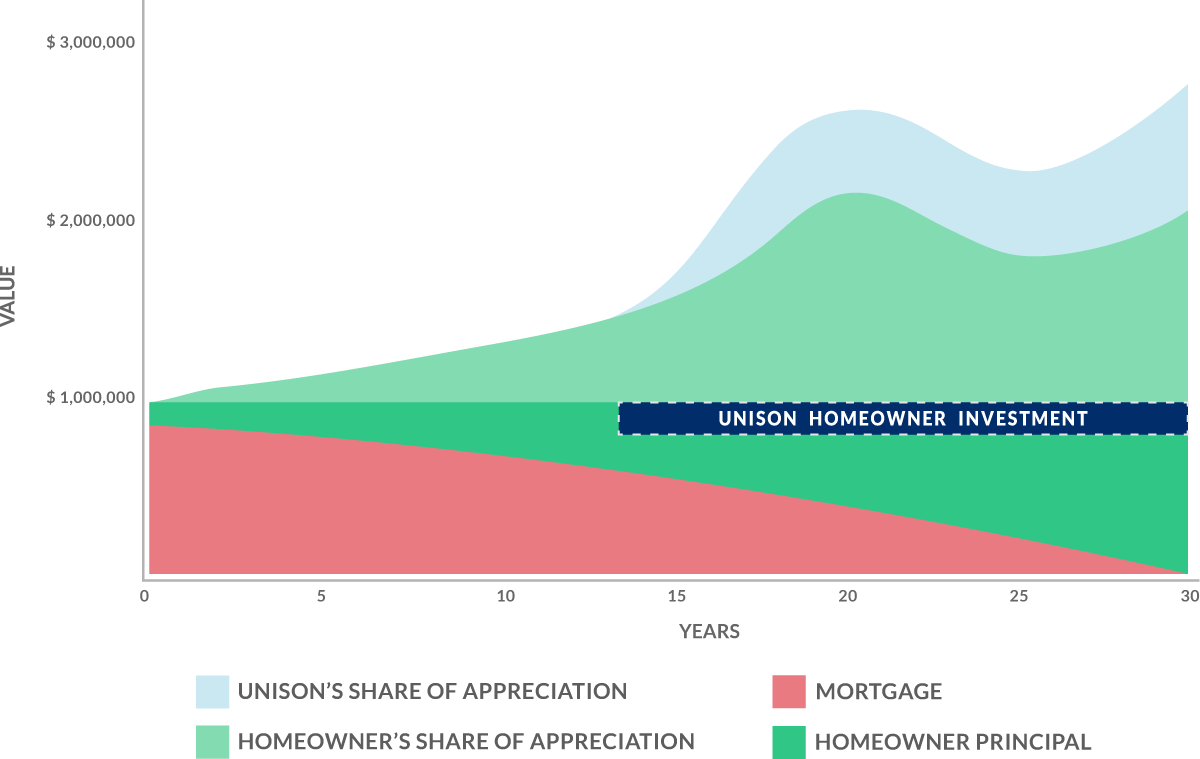 This example is for illustration purposes only. To learn more about the mechanics of our agreement, visit here.
What percentage of the future change in the home's value will Unison share?
Unison's percentage share in the future change in the home's value varies depending on the amount invested. With Unison HomeOwner, Unison's share is typically four times the percentage we invested. For example, if we invest 10% of the current value of your home, we will receive 40% of the future change in value of your home.
Am I allowed to rent my property in the future?
Typically, Unison only invests in owner-occupied property.
Unison's standard pricing is for owner-occupied properties; However, special pricing may be available for the non-owner occupied property.
Please contact us to discuss your situation.
Can I buy Unison out without selling my home?
Yes, you can! If you choose to buy us out, we will order an appraisal to determine the fair market value of your home. The payment you make to Unison will be similar to what you would pay if you sold your home. However, in order to prevent "cherry picking", Unison cannot share any losses with you when you buy us out.
Since Unison's funding is not intended to be short-term financing, we do not allow you to buy out our investment during the first five years.
Our agreements call a "buy out" a "Special Termination". Learn more here.
Settlement Requirement Upon Death
If you pass away during the term of your agreement and you are not survived by anyone else who is on the agreement, then your heirs or estate will be required to settle the Unison agreement, after a 180-day grace period.
Since your home does not automatically pass to heirs who are not signatories to the agreement, it's important that you discuss your decision to enter into the Unison agreement with your heirs so that they understand the effect it could have on your estate.
What are the costs associated with Unison?
For the Unison HomeOwner program, Unison will deduct a 3.9% transaction fee from your cash proceeds at closing. This is the only fee Unison charges and it covers all costs, including processing and underwriting as well as all third-party costs such as credit reports, appraisals, home inspections, recording, and settlement services.
How does Unison secure its interest in the property?
We place a second lien on your property, behind your first mortgage lien. The document we use for this lien is very similar to what a second mortgage lender would use to secure its investment in your home. We also record what's called a Memorandum of Agreement which gives public notice of our interest in and lien on the property.
To learn more about the structure of our agreement, visit here.
Do you have to check my credit? When does that happen?
Yes. However, this does not impact your credit score. As part of our pre-qualification process, we run what's known as a "soft" credit pull that does not affect your credit score. This usually happens when you submit the pre-qualification form on our website.
Also, throughout the lifetime of our agreement, we will run soft pulls to ensure that you are continuing to meet the terms of our agreement. Again, this will not affect your credit score.
What is a Deferred Maintenance Adjustment?
When you partner with Unison, you agree to keep your home in good condition and do routine maintenance as needed. For example, you would be responsible for ensuring that there are no leaks in the roof, that interior and exterior paint is not chipped or cracked, that electrical outlets and heating or cooling systems are in good working order, in addition to all other maintenance.
If you fail to do routine maintenance, that could affect the value of the home whenever you choose to sell it. In that case, Unison would use a deferred maintenance adjustment to determine what the home's value should have been. Unison's share would then be calculated based on this adjusted sale price.
To learn more about the mechanics of our agreement, visit here.
What if the house has a Shortfall?
In some rare cases, the proceeds of your home sale might not be enough to pay the sum of the selling costs plus the remaining balance on your mortgage and the amount you owe Unison. Usually, this only happens when your home has lost value and you haven't yet built up very much equity through monthly payments.
If this happens, you are still responsible for paying the amount you owe Unison.
How does Unison document my property?
After closing your deal with Unison, we will send out a small team to capture aerial photos of your property. We take this measure to complete the documentation of your property along with the inspection and appraisal information we collect before closing. You are more than welcome to meet the FAA-licensed pilot on site, though your presence is not required.
All of this info will live inside your personalized online portal you can log into anytime.
An added benefit: these photos provide higher-quality exterior documentation and superior local context than is available from your inspection. This could be of particular use in the event of a natural disaster or other significant impact to your home.
Does Unison share in selling costs?
No. When you sell your home, you'll be responsible for those costs -- just like you would for any other home sale.
However, you should know that Unison's programs do not add any extra costs at the time you sell your home.
Does Unison benefit from the equity that is built as I pay down my mortgage?
No! The equity you build with your monthly payments belongs to you. We only share in the change in the value of the home over time. For example, if you purchase the home for $500,000 and sell it ten years later for $600,000, we will share a fraction of the $100,000 of appreciation.