2 min read
Buying a home is tough, owning one is a big responsibility, and all of it is part of the American Dream. At Unison, we believe we can go further together than alone by being partners on your homeownership journey.
That's why we're pleased to announce our expansion into eight states: Indiana, Kansas, Kentucky, New Mexico, South Carolina, Tennessee, Utah and Wisconsin. If you live in one of these states, Unison is probably a new name to you. In a nutshell, we're in business to partner with you in your new or current home.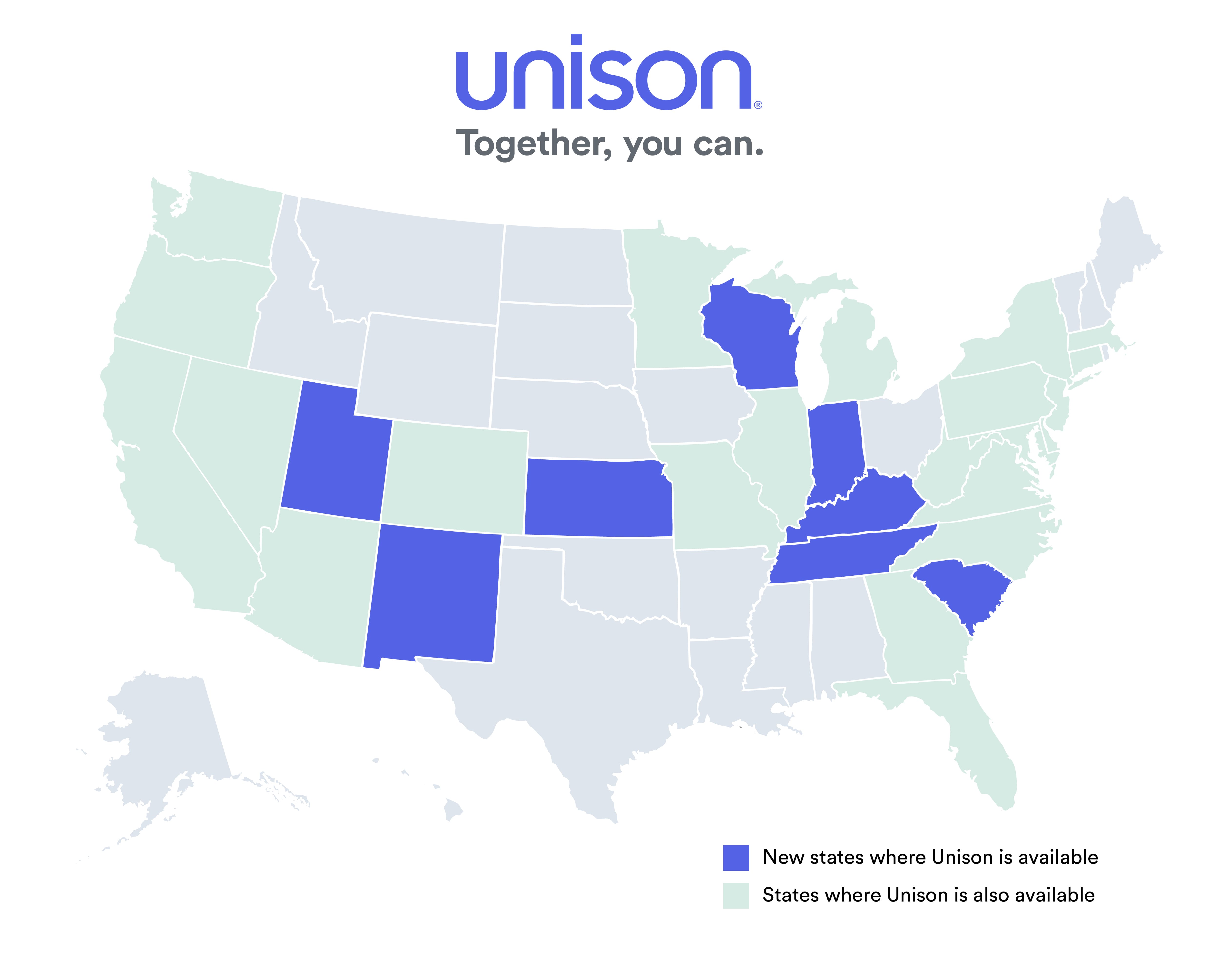 We plan to bring the benefits of home equity sharing to as many people as possible. Every American should have the opportunity to own a home and access their home equity now, and our mission has been to pave a path that helps them do that. We've demonstrated that commitment by more than doubling our national footprint over the past two years. We now offer a smarter, better way to buy and own homes in 30 states and Washington, D.C.
Our latest expansion means over 5 million additional homes may be eligible for the Unison HomeBuyer and HomeOwner programs. If you already own a home and need to pay off debt or medical bills, renovate your home, or send your kids to college, the Unison HomeOwner program could be a fit for you.
Curious how it works? Watch this video:
Unison is also for those who want to buy a home. If you need help with a down payment or a lower monthly mortgage payment — or if you already own a home and want to buy your dream home then consider the Unison HomeBuyer program.
Check out this video to learn more:
We've been helping existing and aspiring homeowners for years. Hear from actual customers about their experiences with HomeOwner programs.
The content on this page provides general consumer information. It is not legal or financial advice. Unison has provided these links for your convenience, but does not endorse and is not responsible for the content, links, privacy policy, or security policy of the other websites.