5 min read
Phil Suess
We're once again approaching fire season in California. While rain in April and May brought a slight reprieve, rainfall was not enough to compensate for one of the driest starts to a year on record. The combination of drought conditions and Covid-19, which makes convening firefighters in large groups challenging, has officials worried, and homeowners questioning how wildfires may affect their home insurance. We've assembled a list of a few common questions to address some of the concerns.
Do I need separate insurance for wildfires?
The short answer is normally no. While damage caused by fires is covered by most residential hazard insurance policies, it is important to read through your current policy or any new policies you are considering. The chart
[1]
below was published by the California Department of Insurance and lists the types of damages typically covered and not covered by a homeowner's policy.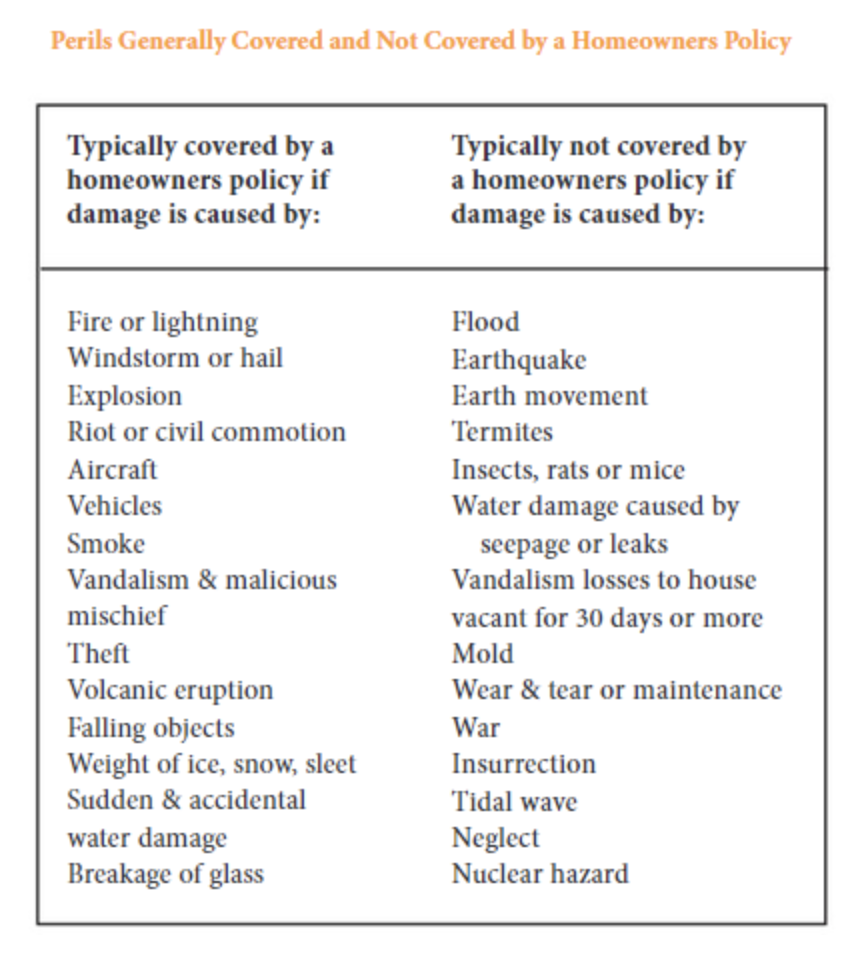 Can my insurance change if there is a wildfire incident near me?
Yes, insurance availability and rates do change over time, so it is important to monitor insurance renewal notices and non-renewal notices. The California Department of Insurance does offer some protection to consumers immediately following wildfires. Currently, regulators can ban insurers from issuing non-renewal notices for one year in zip codes impacted by wildfires. The list of zip codes impacted by wildfire is determined by the Insurance Commissioner based on data provided by the Department of Forestry and Fire Protection. The zip codes protected from insurance non-renewals in 2019 are listed
here
.
Are there different types of insurers?
Yes, there are two categories of insurers: admitted and non-admitted insurers. The difference between these categories is based on their status with the state government. All admitted insurers are required to contribute to the state's guaranty fund and are backed by the state's guaranty fund. This means that if an admitted insurer becomes insolvent or has more claims than it can afford to pay out, then the guaranty fund will contribute to the shortfall up to specified limits.
[2]
While non-admitted insurer may sound like a negative term, it has more to do with the insurer's status with the government than its quality of coverage. Non-admitted insurers provide coverage in regions where coverage by admitted insurers is limited. Additionally, non-admitted insurers do not contribute to the state's guaranty fund and are therefore not backed by the fund in the case of insolvency. While non-admitted insurers do not participate in the guaranty fund, they must set aside significant reserves or obtain re-insurance.
What happens if I cannot find insurance?
For individuals unable to obtain coverage from admitted and non-admitted insurers, there is the California Fair Access to Insurance Requirements Plan (FAIR). It is an option of last resort, meaning individuals can only participate in this option after "a diligent effort to obtain coverage in the voluntary market has been made."
[3]
The FAIR Plan is "an insurance pool established to assure the availability of basic property insurance to people who own insurable property in the State of California and who, beyond their control, have been unable to obtain insurance in the voluntary insurance market
[4]
."
The FAIR Plan offers homeowners an insurance option, but it is far from all encompassing. Coverage is limited to $1.5 million for residential properties, only covers damage from fire or lightning, internal explosion, and smoke and requires the homeowner to get a separate difference in condition policy from another insurer to cover the shortfalls of the FAIR Plan
[5]
. Additionally, the FAIR Plan will not estimate the amount of necessary coverage for a homeowner. In November 2019, the California Department of Insurance mandated the FAIR Plan to double its maximum coverage to $3 million as of April 1, 2020. The mandate also required the FAIR Plan to introduce comprehensive insurance policy options by June 2020. A comprehensive policy relieves homeowners from having to seek out and purchase multiple policies to cover other hazards such as liability, water damage, and theft. The mandate to offer comprehensive insurance of policies was challenged in the Los Angeles Superior Court, with the court issuing a preliminary injunction as of February 2020
[6]
.
More information on the FAIR plan is available can be found
here
.
Where can I find information on changes to the homeowner insurance industry?
Given the current insurance environment, it is important to stay alert to changes in the industry. There are several interested parties working toward making changes to the current structure. If you're interested in monitoring which proposals are implemented, check out the California Department of Insurance site
here
.
[1] The complete report on residential homeowners insurance is available at http://www.insurance.ca.gov/flipbook/residential/
[2] More information on Guaranteed Funds is available at http://www.caiga.org/finance.html
[3] https://www.cfpnet.com/
[4] IBID
[5] "Growing need for FAIR Plan leads Insurance Commissioner to ...." Accessed 27 May. 2020.
[6] "Court issues preliminary injunction halting changes to ...." 20 Feb. 2020. Accessed 27 May. 2020.
The content on this page provides general consumer information. It is not legal or financial advice. Unison has provided these links for your convenience, but does not endorse and is not responsible for the content, links, privacy policy, or security policy of the other websites.