6 min read
By Jia Taylor, Content Marketing Lead
It's no secret: U.S. home prices soared over the past year at the fastest pace in four decades. The result? Millions of homeowners are sitting on a record 22.7 trillion worth of home equity, 2.7 trillion of that gained in the last year alone.
According to a new
2021 Home Equity Report
by Unison, the inventors of home equity sharing, the secular imbalance of strong demand and limited supply for homes, and the high cost of raw materials for new construction, among other factors, have contributed to the strong growth in home prices.
"We're seeing an unprecedented bifurcation of the market," Thomas Sponholtz, CEO and chairman of Unison, says. "With incredibly strong demand for homes and housing supply significantly below the historical average, many buyers are paying a premium above the listing price – if they're able to find homes at all. Meanwhile, homeowners are participating in one of the biggest wealth-building moments we've seen in residential real estate. The record levels of tappable equity they're accumulating give them a lot of options, whether they're eyeing retirement or renovation."
Soaring home prices over the past year boosted home equity wealth to new highs midway through 2021. The amount of equity in mortgaged real estate increased by $2.9 trillion in Q2 2021, an annual increase of 29.3%, according to
CoreLogic's Equity Report
. The average homeowner gained an average of $51,500 in equity in the second quarter, which was the largest average equity gain in at least 11 years and five times the gain from a year earlier.
That works out to nearly $3 trillion in equity gained by U.S. homeowners with a mortgage, which is about 63% of all homes, CoreLogic says. Average homeowner equity jumped nearly 20% in the first quarter from a year earlier.
Home Equity Wealth Continue Rising
Home prices surged by 18.1% annually in August, setting a new record for home price growth, according to the latest
Home Price Index (HPI)
from CoreLogic.
The increasing home prices are also evident when looking at home equity values across the country. The highest median home equity values, in Hawaii, Washington, D.C., and California, are more than quadruple those of typical homes found in Illinois, Ohio and Oklahoma.
[1]
"With incredibly strong demand for homes and housing supply significantly below the historical average, buyers are paying a premium above the listing price, which is a signal that growth of supply is not meeting demand," says Winfield Xu, Senior Manager, Data Science of Unison and author of the
2021 Home Equity Report
.
Reflecting a long run of home price appreciation, California claims five of the ten metropolitan statistical areas (MSA) with the most accumulated home equity growth out of the nation's largest MSAs: San Jose-Sunnyvale-Santa Clara; San Francisco-Oakland-Berkeley; Los Angeles-Long Beach-Anaheim; San Diego-Chula Vista-Carlsbad; and Sacramento-Roseville-Folsom.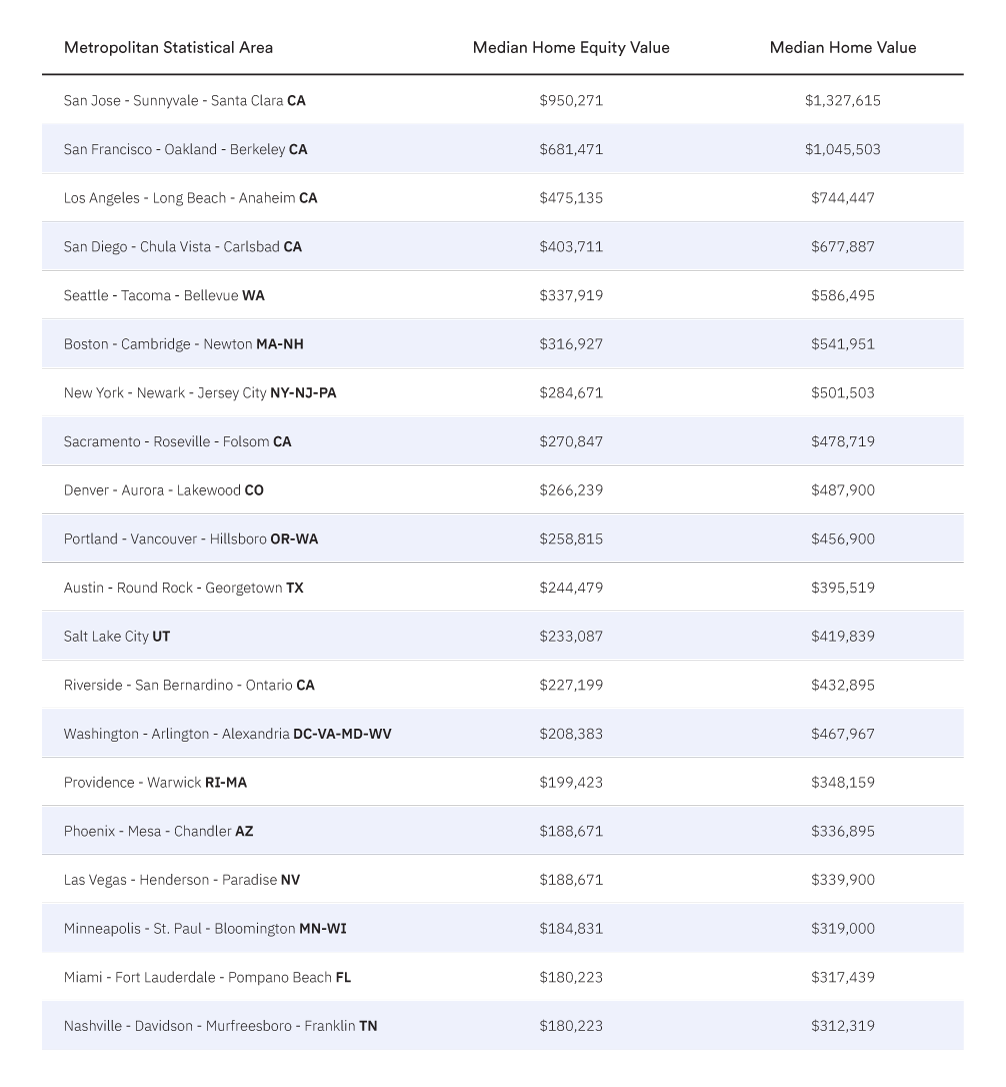 As of July 2021, the San Jose metropolitan area, home of Silicon Valley, boasts a $950,271 median home equity value and a median home value of $1.33 million. Meanwhile, the San Francisco metropolitan area was No. 2 for median home equity value of $681,471, with a median home value of $1.05 million.
[2]
Looking at year-over-year growth, as of July 2021, 49 of the 50 largest metros recorded an increase in median home equity values of over 10% from the previous year, with the exception of the Louisville/Jefferson County metro in Kentucky, which grew 9.7%. Homeowners across all these metros possess more home equity growth than ever before.
First among large metros, the Phoenix metro area experienced an unparalleled 28.7% year-over-year leap in median home equity, with a value increase of $42,112. Columbus, Cleveland, and Virginia Beach followed, all with increases in home equity of over 25%, though the value increases were smaller: approximately $24K, $17K, and $20K, respectively.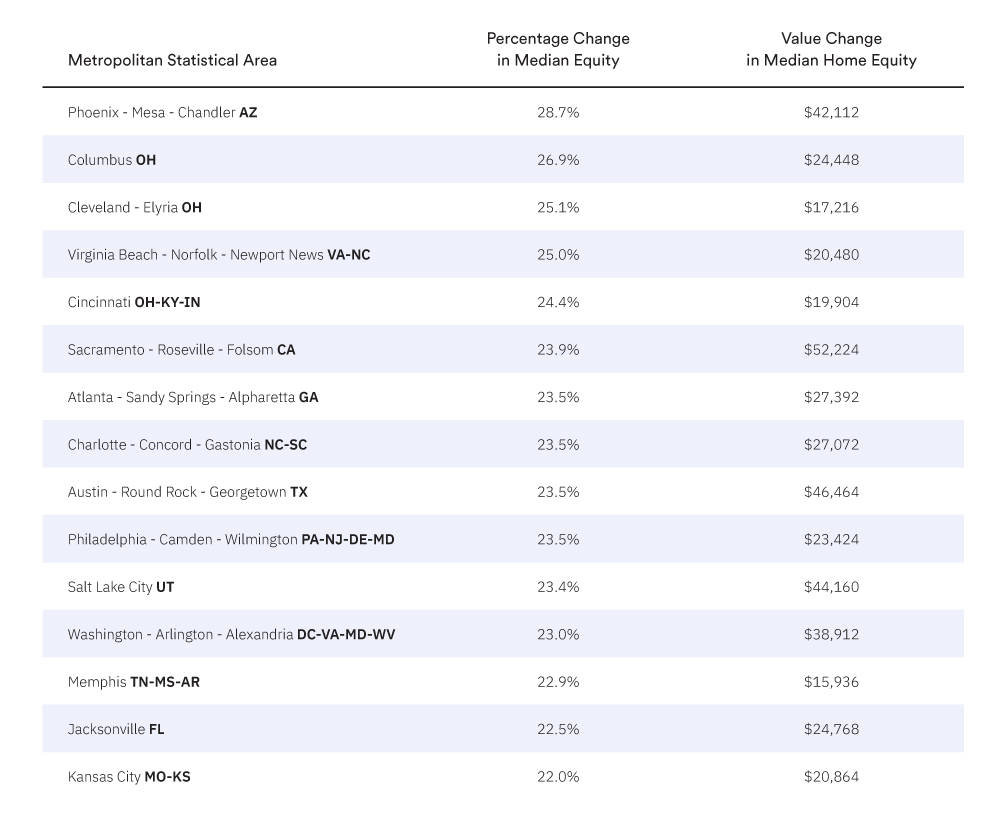 Outside the largest metropolitan areas, the spectrum varies further in terms of home equity changes.
[3]
The California-Lexington Park metropolitan area in Maryland saw the highest home equity increase in the nation, jumping 58% from a year ago.
The full report can be seen
here.
What does this mean for Homebuyers and Homeowners?
A difficult market lies ahead for homebuyers, as prices continue to rise and competition remains fierce. However, understanding what it means to
build equity in your home
can help homebuyers realize why homeownership is a worthwhile goal. Low interest rates also put buyers at an advantage, since they're more likely to be able to afford higher prices with the money they save.
Homeowners have seen the most benefit from rising home prices in today's real estate market. While the coronavirus pandemic created economic uncertainty for many, the continued rise in home prices over the last year has meant existing homeowners saw a notable increase in home equity. The accumulation of equity has become critically important to homeowners deciding on their post-forbearance options. In contrast to the financial crisis, when roughly 25% of borrowers were underwater on their mortgages, most borrowers today who are behind on mortgage payments can tap into their equity through a cash-out refinancing or sell their home rather than face foreclosure.
Rising homeowner equity can also give homeowners financial flexibility to access their equity to
pay off high-interest debt
, invest in other properties, or finance large purchases, such as
home improvement projects
, which can give a boost to the economy.
Bottom Line
As home prices soar across the U.S. amid high competition and low inventory, homeowners can take advantage of the newfound equity in their home through a
home co-investment with Unison
.
Unison can share equity in your home, giving you cash today, in exchange for a percentage share in your home's future change in value, allowing you to take advantage of the housing surge by unlocking your home's equity without needing to move. If you qualify, Unison will give you up to $500k or 17.5% of your home's value. Unlike a loan, there's no interest, no monthly payments, and no debt.
In exchange for its investment, Unison will share in the profit, and in most cases the loss, when you finally decide to sell your home and move out (up to 30 years later). If you decide you want to stay longer than 30 years, you can settle the agreement at the end of the term without moving out.
[1] All home equity values in this report are estimated based on data from CoreLogic.
[2] Median home values are based on automated valuation model (AVM) values from CoreLogic.
[3] Based on CoreLogic data for metropolitan statistical areas with consistent property counts from July 2020 to July 2021.
The content on this page provides general consumer information. It is not legal or financial advice. Unison has provided these links for your convenience, but does not endorse and is not responsible for the content, links, privacy policy, or security policy of the other websites.