4 min read
If you've owned your home for at least 10 years, it's likely that you think of it as much more than a part of your financial portfolio. After all, so much changes in a decade, and your house has been there through it all — if you moved into your home when your child was six, that same kid is now driving a car. The puppy that scampered across your kitchen tile then is now a calm adult dog. And while you may have been at the peak of your professional career a decade ago, these days you're likely thinking more seriously about retirement. To help understand the changing role of the home over time, Unison conducted a study that can shed light on how best to maximize your investment while mitigating some of the challenges commonly faced by homeowners.
The new reality of retirement
Pensions are largely a thing of the past. It's now up to Americans to finance their own retirements, and that can be a tricky landscape to navigate. In fact, 47% of U.S. homeowners have only saved around $250,000 or less, which falls far short of the
$1.17 million most people believe they'll need
to support a 30-year retirement. Many of us have been told that having a home fills in the money gap, so it's not surprising that 25% of American homeowners are planning to use their home to fund their retirement. The problem is that most homeowners don't know how to use their home for retirement. And this lack of planning could have very real consequences.
All about the equity
The beauty of paying a mortgage is that you're diverting money from a landlord and turning it into equity. It's tough to actually access that equity, though, without taking out a HELOC (home equity line of credit) or a home equity loan, both of which require being repaid with additional interest. It's likely due to those constraints that 72% of homeowners have never accessed their home equity. That's a shame, because homeowners could benefit from cash, especially when it comes time for inevitable home improvements. A better way to tap into your home's equity is to utilize an equity sharing agreement. That way, you can access money from the equity without the high expense or monthly repayment of a HELOC or home equity loan. That frees up money to pay down credit cards and student loans, or to renovate your home. And there's no interest (thank goodness).
In our feelings
The survey revealed fascinating insights about the positive emotional effects of homeownership. Homeownership makes 43% of people feel secure and makes 34% of homeowners feel stable. In fact, while a quarter of the survey's respondents said that their home is a nest egg, 31% of homeowners say it's primarily a place to make memories. We're also protective of our homes and are willing to sacrifice niceties to keep making mortgage payments if hard times hit. Nearly 40% of homeowners would sacrifice going out to eat and 27% would sacrifice spending money on children and grandchildren in order to keep their homes. Having a home pays such emotional dividends that 93% of American homeowners recommend others buy a home as well.
Living in the nest
It's no secret that more demands are placed on the dollar than ever before. To overcome modern financial challenges, families are banding together and getting smart. Adult children of homeowners are choosing to stay at home longer to make ends meet — in fact, 53% stay for five years or more at some point after turning 18. And parents are pitching in for tuition, transportation, cellphone bills, car insurance, groceries and a host of other things. So where are parents getting the money to help their adult kids? Primarily from savings accounts. And that means 47% of parents haven't been able to save like they need to because they've been spending their money on their adult children. That's risky.
Getting ready for what lies ahead
We love our homes. But it's important to remember that a home is part of a financial portfolio, which means it should be protected and maximized. Check out more about the
State of the American Homeowner
report and learn more fascinating insights about homeownership in the modern age.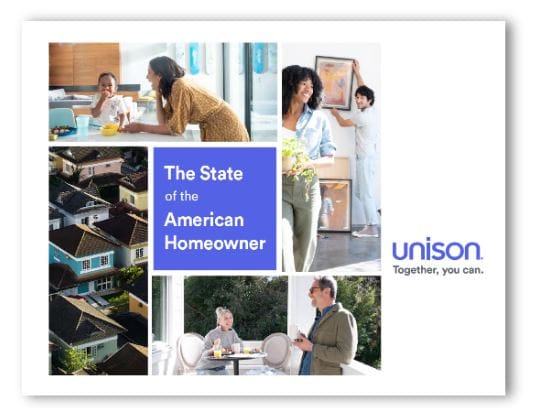 The content on this page provides general consumer information. It is not legal or financial advice. Unison has provided these links for your convenience, but does not endorse and is not responsible for the content, links, privacy policy, or security policy of the other websites.