6 min read
By Jia Taylor, Content Marketing Lead
Key Takeaways
U.S. Homeowners gained over $3.2 trillion in home equity since the end of 2021 as home prices continue to soar.
Home prices nationwide increased more than 20% in March 2022.
Housing value surged the most in hot spots like Florida and Arizona.
Home price surge will eventually cause buyers to move into more affordable cities.
How to navigate in this homebuying season.
In the early stretch of the Covid-19 pandemic, it looked like the housing market was headed for a crash. After all, how could the market survive with millions of Americans out of work and state mandated shutdowns? But despite a very weak economy, homeowners struck gold during the pandemic.
U.S. homeowners with mortgages (roughly 63% of all properties
[1]
) saw their equity increase by more than
$3.2 trillion
, since the fourth quarter of 2021, while the U.S. saw the fastest period for
home price growth
in recorded history.
Now that we're heading into homebuying season, major shifts in the real estate market are disrupting the housing market's usual ebb and flow. There's high demand and low inventory, leading to stunning jumps in home prices and mortgage rates. In addition, many Americans are buying farther away from their home cities and jobs. As homebuying season kicks off, will these changes be long-lasting? Let's take a look at how it's shaping up—and what buyers and sellers can do to navigate it successfully.
U.S. Home Price Growth Since the Onset of the Pandemic
Even as Americans were working from home, homeschooling their children, and practicing social distancing, consumers were still buying homes at unprecedented rates and prices.
How did the U.S. go from recession to housing boom so quickly? As many strict lockdown measures were lifted, demand for homes increased. Part of the demand came as many Americans, who were spending more time in their homes than ever before, realized their current homes were
no longer right for them.
While demand was high, supply was at a record low, according to the
National Association of Realtors.
A high demand for housing combined with fewer homes for sale caused home values to shoot up. According to the latest
CoreLogic Home Price Index (HPI) Report
, home prices across the nation increased by 20.9% year over year in March 2022, compared with March 2021.
As the housing market is on a fast-paced upward trajectory, many are wondering: Will the housing boom lose steam? According to
Zillow's forecast model
, home prices are widely expected to continue to rise this year, but not at the jaw-dropping rate of 2021. What happens next will depend largely on how both buyers and sellers react to the changing market.
Home Appreciation and Depreciation Hot Spots
Although house prices skyrocketed in the U.S, the degree of appreciation has varied greatly across cities. Homeowners in some states have seen their home values soar, while owners in other states have seen their values absolutely plummet.
Fueled by remote work and booming economies, mass migration to the South, Southwest and West drove some of the sharpest increases in home prices. Florida had the strongest appreciation in home price growth with an increase of (31.4.1%), followed by Arizona (28.7%) and Tennessee (26.7%).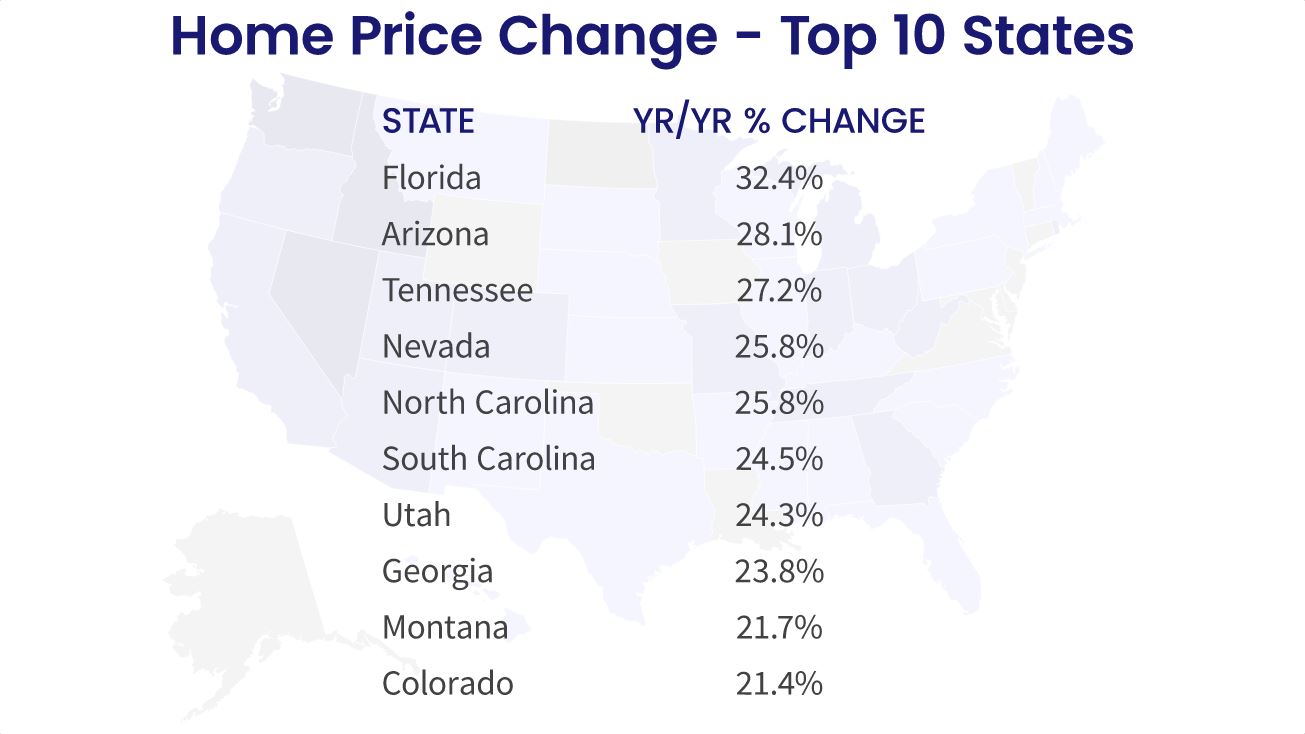 According to the latest
Corelogic Market Risk Indicator (MRI)
the following top markets are at risk of home price decline. Lake Havasu City-Kingman, AZ is at a very high risk (70%-plus probability) of a decline in home prices over the next year, followed by Prescott, AZ and Bridgeport-Stamford-Norwalk, CT.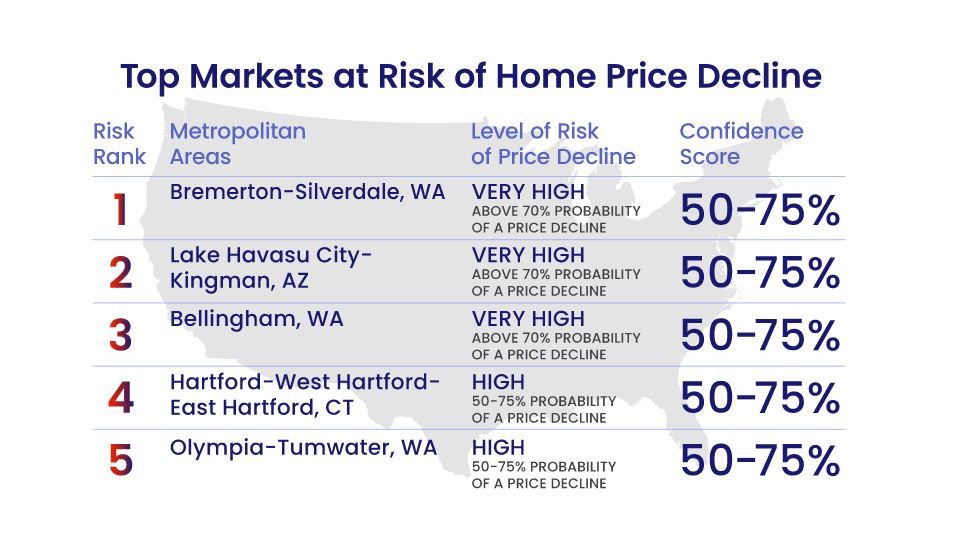 Impact of Inflation on Real Estate Market
Inflation is at its highest point in
40 years
and this has many consumers on edge — especially those looking to buy a home. The U.S. inflation
jumped 8.3% in April
from a year earlier.
How does inflation affect home prices? High inflation doesn't necessarily result in dropping home prices. It simply means that the rate of growth, or how fast prices are going up, may slow down.
Inflation will certainly have an impact on homebuyers and homeowners, as well as consumers who already own a home. But that impact won't be as dire as some predict. Homeowners also have record amounts of equity, which means if prices were to unexpectedly drop, they could use their equity and still sell their homes to pay off their mortgages.
Urban vs Rural: Where Are People Going Next?
It's no secret that many city dwellers fled to rural and suburban areas after the pandemic hit, as homeowners looked for better housing costs and work-from-home opportunities. According to Redfin,
record 32%
of homebuyers looked to move to a different metro area in the first quarter.
According to the
Redfin report
, San Francisco, Los Angeles, New York, Washington, D.C. and Seattle were the top metro areas homebuyers looked to leave in January, which was unchanged from the fourth quarter of 2021.
With a median sale price of roughly $1.4 million, San Francisco is the most expensive place to buy a home in the country. Los Angeles, New York, and Seattle aren't far behind.
Concerning prime homebuying destinations, Miami was the most popular locale of all the major U.S. metropolitan areas, unchanged from the third and fourth quarters of 2021, followed by Phoenix, Tampa, Sacramento and Las Vegas.
How to Navigate in this Homebuying Season
The supercharged housing market that began in early 2020 has thrown existing housing sales in disarray. As it is still an intense seller's market, here's what buyers and sellers can do to navigate during this tough housing market.
Research your ideal location - Before you hit the road to look at homes, do some research on your ideal location. Look at the average home prices and time on the market, which will give you an idea of how hot the market is in that location. Calculate your current payments at current prices and interest rates.


Prepare for a bidding war. Go into a bidding war with a plan. Get prequalified and preapproved for credit ahead of time and know how much you can afford. You'll also want to ensure you have adequate documents showing that you have the money for the down payment or closing costs. Also, set a price cap on the amount you are willing to offer to prevent you from paying tens of thousands of dollars over the list price.


Be ready to move quickly.The biggest hurdles for many potential sellers are finding a new home and paying too much for a new house. But homeowners still have an advantage, and should get their home in for-sale condition early, so that when you do find a home to buy, you're ready to list and can enter the buyer side with more money to fuel your buying power.
What's Next?
Whether you're thinking of buying or selling a home, you're looking at a major life change, notwithstanding what's happening in the housing market. The current trends we see in the U.S. real estate market inform us only to a certain extent. Only time will tell what the housing market has in store, but in an unpredictable market, now might be a good time to start planning your financial goals.
The start of your homeownership journey can be challenging during uncertain times, but it's doable. Imagine a path to homeownership that started with a partner who shares in the ups and downs of the journey with you. Until now, the only way to finance a home was by taking on debt. Through a residential equity agreement, Unison helps homeowners access their equity flexibly with no monthly payments or interest. To learn more, click
here.
[1] Homeownership mortgage source: 2016 American Community Survey.


The content on this page provides general consumer information. It is not legal or financial advice. Unison has provided these links for your convenience, but does not endorse and is not responsible for the content, links, privacy policy, or security policy of the other websites.